FAQ
Is there an age limit?
You must be attending Secondary School in order to participate in the Strathpuffer. There is no upper age limit.
All participants under the age of 16 must provide written permission from parents at registration.
All non-school competitors who will be under 14 during the event must contact the organisers before entering
All riders under the age of 14 must be accompanied on every lap by an adult and must be capable of riding mixed terrain in challenging conditions - in all cases the organisers reserve the right to end or suspend the participation of any young rider should they deem it appropriate.
So it eats brake pads?
Yes and no. There's a lot of mica in the surrounding area, and it makes its way onto the course quite profusely.
What wears the pads down is not the mud (well, not just the mud), but the mica-laden water sprayed up off the course as you ride it.
Sintered pads are your best bet, and it's fresh-from-the-packet pads that tend to die (and fresh-from-the-packet organics are lucky to last more than a couple of laps), so if you've bedded your pads in beforehand, it's not unreasonable to expect them to last the entire event in dry and or frozen conditions (and dry conditions have happened, so shush!)
Is it really only one vehicle per team?
Yes it is. There's no point trying to sneak another in, it won't work; you only get one car park entry token per team.
We're not being mean, there's just not the room. There is overflow parking right around the corner though, so it's not the end of the world.
Is there power to charge my batteries?
Yes, Exposure lights will have free charging facilities throughout the race, as well as Lights for hire and ex-demo lights for sale.
If you've booked hire lights please collect them before the race starts...Any issued after that will be on a first-come basis.
Please make sure your lights are fully charged so we don't overload the system.
Any enquiries about sales please contact USE Exposure via their website or by phone on 01798 839300.
Where are the live results?
Depending on when you read this, they are/were/will be here.
Ice tyres?
The odd straw poll of the podium would suggest most who podium don't bother. That said, for everyone else, it's up to you. If you've got some, you've nothing to lose by bringing them along, although make sure you bed them in according to the instructions, otherwise you'll find the studs escaping fairly rapidly.
If it is icy, and you've not got ice tyres, don't worry, as a line wears in very rapidly, although be prepared for the odd "Bambi on ice" moment during the first hour or two.
Are there showers/facilities?
We have port-a-loos! No showers unless you bring your own.
Is there a bike wash?
Yes there is. We have a bike wash which at certain times can become busy, so please be patient.
Is there a bike shop/mechanic/parts to buy?
Yes, there is a mechanic and a limited supply of spares from Square Wheels. Cash or Cards are accepted.
Is there catering?
There is catering in the event centre (the marquee) by Red Poppy catering, supplying hot drinks, pasta, burgers etc. from Saturday morning through the night until Sunday morning for bacon and egg rolls.
On the Friday evening, there is a pasta party which the local community group will provide in the warmth of Contin village hall. 2 courses for £10.
Coffee Rescue will be with us on Friday evening and through to 4pm on Saturday to keep you fuelled up with good coffee.
The PizzaBox will be making fresh pizza on site from 5pm to 9pm - Check out Time slots and pizza choice and then please order by messaging the Box on their FB page Order here or emailing:info@theboxpizza.co.uk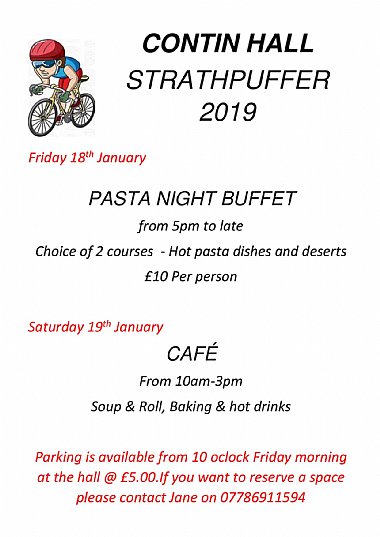 Cancellation policy
It's never happened, and we don't expect it to, but in the unlikely event that we have to cancel the race due to circumstances outwith our control (we're talking high winds and falling trees for example), we will refund 25% of your entry fee and offer a guaranteed place in the following year's event.
Refund Policy
Refunds less an admin fee will be available until 30th September.
Cancellations between 1st October and 30th November will receive a 50% refund.
No refunds will be given after 1st December 2017.
Changes in Team personnel available up until the start.